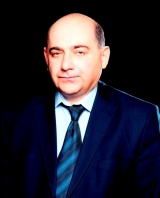 Giorgi Gvenetadze
Email: g.gvenetadze@blf.ge
Mr. Giorgi Gvenetadze is a partner at BLF. His practice area mainly includes bank finances and tax law, custom law, criminal law, legal proceedings in civil, corporate and administrative law.
At early stage of his legal career Mr. Giorgi worked as a lawyer at Ministry of Finance, legal and informational-analytical departments on tax and custom issues. Later on he moved to the Legal Committee of the Parliament of Georgia, where he was participating in drafting process of Georgian legislation.
Giorgi was a Judge at Tbilisi City Court from 2005 till October, 2008. Later he started working in private sector and became a head of Legal department at JSC "Kor Standard Bank". Prior to joining BLF, he had an independent attorney practice.
Giorgi was a lecturer in tax and custom law in Georgian Barrister Assosiation and in education center of Ministry of Justice of Georgia. He has published several scientistic and analytical works in entrepreneurial, civil procedural, administrative and labour law.
Mr. Giorgi Gvenetadze graduated from Ivane Javakhishvili Tbilisi State University, Faculty of Law.
Giorgi speaks fluent Georgian and Russian.